Make pulp & paper industry fossil free
Markets and strategy. Pulp & Paper industry in Sweden emits CO2 as much as half of the country's total fossil CO2 emissions. The lime kiln in the chemical recovery is often the last big user of fossil oil in the plant. Eliminating the fuels by using plasma generated with climate neutral electric power not only eliminates fossil oil but also releases big amounts of biomass to be used in biorefinery instead of beeing used as fuel. Our technology brings the chemical recovery beyond carbon neutral into carbon negative, extracting biogenic CO2 from the lime kiln at high concentration, available at lower cost for capture and sequestration, or use (BECCS/BECCU).
Anchoring processes in Swedish P&P Industry has been started. Meeting with global suppliers from Denmark, Finland, Austria, China is planned for International markets. Possible Swedish producers like ScanArc Technologies AB and others with already established market contacts will be developed. Additional capacity to mills with expansion plans is our priority and first market.
Research by one of the founders has already been financed by public sector research grants through competitive grant processes. Government agency research reports describe the validation of the technology in principle as a first stage proof of technological concept.
Business model and IPR. Attracting capital from public and private investors. Increasing company value through successful results in phase 1-4 with additional IPR and knowhow. The company will offer licences and royalty agreements and establish cooperation with already existing players. Cashflow already in phase 3 A and B.

Management
Henrik Wiinika PhD Research Institute of Sweden
Daniel Sundberg Senior Project Leader Engineer Energy Systems High Temp. Plasma Physics
Roland Lundqvist Technical Director LimeArc Process AB
Anders Mood CEO LimeArc Process AB


Company board
Håkan Kingstedt
Roland Lundqvist
Matej Imris
Hans Martin
Viktor Blomberg


Advisory board
Mats Westermark prof KTH
Sven Santén, plasma expert ScanArc, senior advisor
Angelica Adamski, Senior Executive, fundraising and business development
Experts from Academia and pulp industry


Financing rounds for private investors
| | | | |
| --- | --- | --- | --- |
| Phase 2 | 1 MSEK | 15 % shares | 6,7 MSEK company value. Completed Q2, 2020 |
| Phase 3A | 12 MSEK | | Closed Q4 2021 |
| Phase 3B | 175 MSEK | | Planned Q4, 2023 |
Company pree-seed financing has been accomplished by the owner, ALMI Företagspartner AB and Region Gävleborg.

Seed stage financing is set by private investors and Swedish Energy Agency. We are in the planing phase to new emissions. Commercializing in project phase four have 2-3 alternatives depending on if we join hands with already established players on the market with customer or merger with others.
Stakeholders supporting the project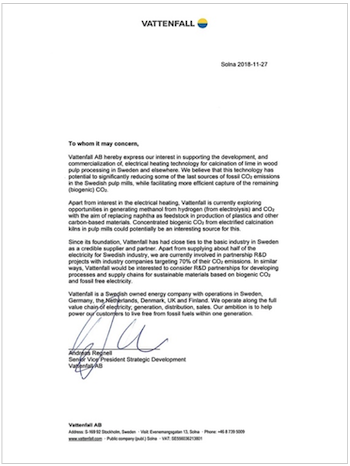 Vattenfall AB, European Power generation company
Fossil Free Sweden, governmental initiative
ScanArc Plasma Technologies AB
RISE ETC Research Institute of Sweden
Propell Business Incubator
Movexum Business Incubator
AFRY Management consulting company
KTH Royal Institute of Technology, Stockholm
StoraEnso AB
Smurfit Kappa Piteå
ALMI Företagspartner AB
County Gävleborg
ScanArc Plasma Technologies AB is partnering with LimeArc Process AB
LimeArc Process AB (LimeArc) was founded as a joint venture by Carnot AB (Carnot) and ScanArc Technologies AB (ScanArc), both with over 40 years of experience in pulp and paper processing and steel manufacturing, respectively.

Roland Lundqvist, chairman and founder of LimeArc says:
With ScanArc we secure leading knowledge in plasma technology. We continue our long relationship by working together with RISE ETC in Piteå. After that we plan trials for upscaling at ScanArc in Hofors, Sweden.
Patrik Hilding, Technical Director Plasma System at ScanArc:
ScanArc is very pleased to be part of this journey to enter the pulp and paper industry where all parties contribute to important goals within clean technology and clean energy. By joining competences and establish technology we will establish plasma in a new sector which will support large climate positive effects by electrification.

Carnot is a highly specialized technology and consulting company in northern Sweden focused on clean energy and industrial processes and their social/environmental impact and has developed patented technologies to improve energy effectiveness in industrial processes.

ScanArc is an engineering company that has pioneered the development of plasma technology to treat materials in solid, molten and gas phases. The company provides turn-key plant and equipment solutions for their customers in the metallurgical industry as well as in the municipal sector, and performs testing and contract manufacturing for these customers in their state-of-the-art facilities near the Ovako industrial site in Hofors, Sweden.